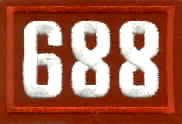 This page was last updated on: July 25, 2014
CYCLING TRIP

January 11, 2014

1 Scout and 2 Scouters took a bike trip to Seal Beach to begin the scouts cycling merit badge.

CARNIVAL CLEAN UP

May 3, 2014

13 Scouts participated in a carnival clean up for the St. Gregory the Great church carnival. Clean up included patroling the carnival and emptying the trash cans.

MEMORIAL DAY FLAG PLACEMENT

May 24, 2014

Scouts from Troop 688 placed flags on the graves of melitary vets at Olive Lawn Memorial Park in La Mirada to honor those who served their country.

NEIGHBORS HELPING NEIGHBORS

May 30, 2014

St, Gregory's food bank, Neighbors Helping Neighbors, received a large donation of food from US Postal Service and Troop 688 was there to sort and organize the food. Scouts were there on the 29th and 30th to make sure the food was not expired and in good condition.

FLAG DAY CEREMONY

June 11, 2014

8 Scouts from Troop 688 and 6 Scouts from Pack 688 participated in a flag ceremony at the Elks Club in Whitter. The ceremony had many historic flags.

HIKE

July 12, 2014

Mr. Malvaez led the troop on a 6 mile hike at Hellman Park. The hike was a moderate hike in the local hills.